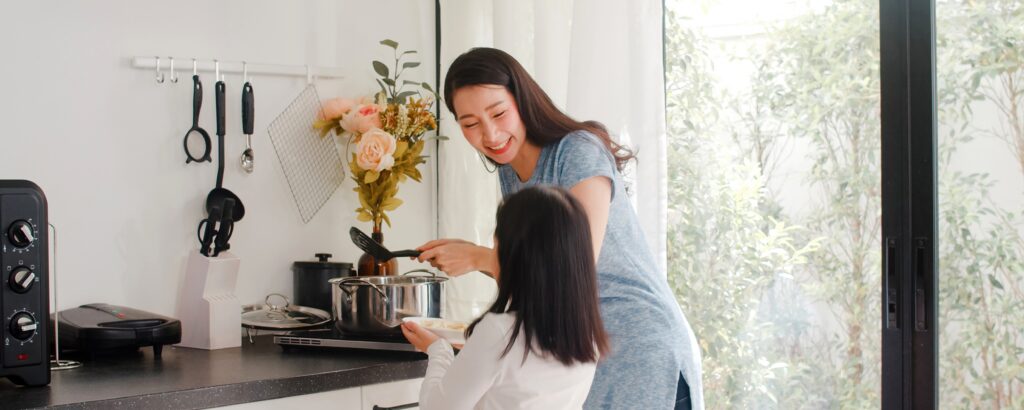 3 Soups Your Young Chef Can Make This Fall
We love a good fall soup recipe, right? Something about the cooler temperatures moving in makes us want to break out the Crock-Pot, Instapot or maybe the Dutch oven (we all have our loyalties). Before you start planning your soup-making day this week, think about how you can bring your child into the kitchen with you.
Kids who learn to cook at a younger age show stronger language and reading skills, independence and life skills, and teaches them to focus on a task. Soup is a relatively easy step for kids to start cooking because they can help you fill the pot and then walk away for a few hours.
Here are three soups you should make with your child this fall.
Everyone loves a bowl of chicken noodle soup, especially kids. This classic has many ways kids can help you make their favorite soup.
If you use a store-bought rotisserie chicken, they can tear the chicken off the bone; if you cook your chicken in the oven to shred, your kid can use this handy trick to shred chicken with a hand mixer.
Your child could also help sautee the vegetables. If they're old enough, now might be a good time to teach them how to slice and dice onions and carrots as well.
For younger kids, they can help you pour the broth into the pot and learn how to boil the liquid.
Some young tummies (and a lot of adults, even) are sensitive to dairy. This soup recipe creates a hearty, creamy soup without dairy. But you can add it at the end if you want. With roasted sweet potatoes and carrots, you'll be filling up your kids with nutrient-rich vegetables and they can help you make this soup.
Your child may not be old enough to dice the sweet potatoes and carrots, but they do other tasks in this recipe. For starters, you can teach your child how to set your oven to preheat and have them press the buttons to start the oven.
While the vegetables are roasting, show your child to sautee the onion and garlic. If old enough, you can entrust them to measure the chicken stock and then pour into the pot.
Lastly, you can guide your young chef through the immersion blender rules and let them mix the broth and vegetables until smooth.
This slow cooker-based chili makes it easy for parents and children to create a tasty, filling meal that should please all family members. The best part is that the kids can do just about every part of this recipe.
You can assign either the vegetable dicing or sauteing the beef and onion to your child while you do the other task. Once you've browned the ground beef, toss it into the slow cooker. Your child can then dump all the other ingredients into the pot, put the lid on, and turn on the cooker to the right setting.
The best part about chili is that everyone can top it with whatever they like. Your child can help you pick out the toppings they want and set the table with them.
---
You may have some family-favorite soup or stew recipes that you may want to pass down to your children. Now is the perfect time to start! Family traditions often start in the kitchen, and you can create lasting memories with your grade-schooler. 

Whether you use the recipes in this blog or create your own, take the time to include your young chef in the cooking process. You'll love the bonding time and they'll love being included in the adult activity. Don't forget to share your culinary creation with us on Instagram by tagging us @ivyleagueafterschool!