Ivy League Montessori is a Full Member of the American Montessori Society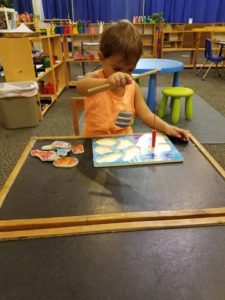 Ivy League Montessori School is based on the philosophy, teachings, and materials developed by Dr. Maria Montessori. The primary classroom is an environment that encourages social integration for concentration, cooperative learning, peer teaching, and emotional development. Children ages 3-6 learn together in the same setting. The younger children are guided by the teachers and by observing and working with older students.
Children learn to work at a task from beginning to end and develop their self-discipline and capacity for total concentration. Courtesy for others, grace and respect develop naturally as the children grow within the Montessori environment. Montessori is a unique philosophy that allows the child to direct his/her path of learning.
Discover a Montessori world where young minds grow.
A classroom environment which encourages social interaction for concetration, cooperative learning, peer teaching and emotional development.
Affiliate with the American Montessori Society
Certified AMA Montessori teachers
Summer enrichment program
Mixed age class ages from 3-6
Spacious indoor gym
Our mission is to provide a quality educational program. We aim to assist the child in his or her own development by preparing an environment rich in educational materials that will invite hands-on discoveries.
We believe that each child is born as a unique individual. Parents are the most significant adults in a child's life and we strive to create a partnership with each family to create a positive environment for each child. Our goal is to provide excellent education for your child, and we welcome all children and their families.
Montessori Hours: AM: 8:55am – 11:35am | PM: 12:30pm – 3:15pm
Before & After Hours: AM: 6:00am – 8:55am | PM: 3:15pm – 6:30pm
Kinderbridge is available at The Ivy League Rec Center. Drop off and pick up at Community Consolidated 146, Mokena 159 and Summit Hill 161 Districts. Learn more
To learn more, please attend an Open House or contact us anytime at 815-464-1265 to schedule a tour.
We hope that by exposing a child to a Montessori environment with a Montessori approach to education, he/she will blossom into a creative human being:
…a human being who has respect for him/herself as well as the world around them;
…a human being who initiates tasks with interest and enthusiasm;
…a human being who has sufficient self-confidence to explore, experiment, discover and learn on his/her own as well from their peers;
…a human being who is self motivated;
…a human being who works for his/her inner satisfaction;
…a human capable of involving him/herself in self-chosen tasks for a length of time
…a human being who can complete the tasks he/she initiates;
…a human being who can exercise inner discipline when necessary;
…a human being who can love and live in peace with all people
"The most important period of life is not the age of university studies, but the first one, the period from birth to age six. For this is the time when man's intelligence itself, his greatest implement, is being formed. At no other age has the child greater need of intelligent help…"