Birthday Parties & Gym Rentals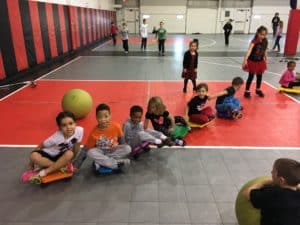 Birthday parties at the Rec Center are action-packed and hassle-free. You relax as we plan the party, help you set up, and supervise the activities. We do the clean up! Adults and children alike can choose from basketball, soccer, volleyball, football, dodgeball, floor hockey, kickball, and much more in our air conditioned gym. Show your party host they did an amazing job! Gratuity is greatly appreciated!
To assure availability, party requests should be made at least 2 weeks in advance. The Party Coordinator will help you check for available dates and times. Complete a facility rental application. Payment is due in full at the time you book the party.
Approximately three days before the party date, you should call to confirm the number of people attending and the other details.
The Ivy League Mokena Rec Center is equipped with two multi-purpose sports courts. We have a fridge and freezer if you need anything stored.
WHY HAVE YOUR BIRTHDAY PARTY WITH US?
We can customize a party to fit almost any need. For more information or to request a date & time call the rec at: 815-464-1265
We had my 12 year old son's birthday party there and everyone had a great time!! The kids had so much to do and it was great to sit back and relax!! Staff was absolutely amazing! Thank you all so much!!
Great birthday party for our son!! So great, that we did it two years in a row! Gabby was a great host both times! Definitely recommended!!
We had my son's birthday party there and Gaby was so awesome with the 25 7yr olds we had there!! Best place for them to have a party and have so much fun!
The Ivy League Kids was a wonderful venue for my daughter party. Gabby was awesome and really engaged the kids with playing."
Thank you to your staff for putting on a great party for our 10 year old boy! The guy who was the host worked very hard and was bending over backwards for us!
We had such a great time! I've been recommending it to other parents as well!!
Carmen was absolutely fabulous!
All of the guest enjoyed Elijah' s 5th birthday party and we had 20 kids. Plenty of room and other guest are interested in having a party at The Ivy League in the future. Thank you all very much.
Our party host, Stephanie, was fantastic! She worked very well with the kids. We appreciated all she did for making the party a success!
We really enjoyed everything and look forward to having more parties there.