5 Ways to Savor the Last Weeks of Summer
Labor Day is the unofficial end of Summer in the United States. School is back in session, vacation plans slow down, and we start looking toward Halloween in October. But just because September is here doesn't mean Summer is over! The equinox on Sept. 22 signals the official close to the season. 
In Illinois, the Summer heat may break soon but we still have warm temperatures in which we can enjoy the outdoors all day long. Here are five ways your family can safely still soak up the final weeks of Summer. 
1. Family Four Square 
This is one of the student's favorite games at the Mokena Rec Center!  Four square teaches manual dexterity, game strategy and is a great physical activity for all ages. It is also a great game to teach fundamental social skills including group play and interpersonal communication. 
Grab some chalk, a rubber playground ball and your family (and maybe some friends) to play this easy game. For a geometry lesson, have your children draw a large square and then split it into four equal quadrants to make the court. This game can keep your family entertained for hours.
2. At-Home Ice Cream Parlor 
We all love going out for ice cream. Whether it be a special night out with the family or a treat for a great performance in a soccer game, ice cream is a celebration. Why not make a random weeknight a celebration? 
Setting up an at-home ice cream parlor is easy because you don't have to make anything. Buy your basic vanilla and/or chocolate ice creams and all your favorite toppings. From sprinkles and chopped walnuts to chocolate syrup and cherries, you can create a fantastic ice cream sundae station to make every member of your family happy.
3. Hike in a State Park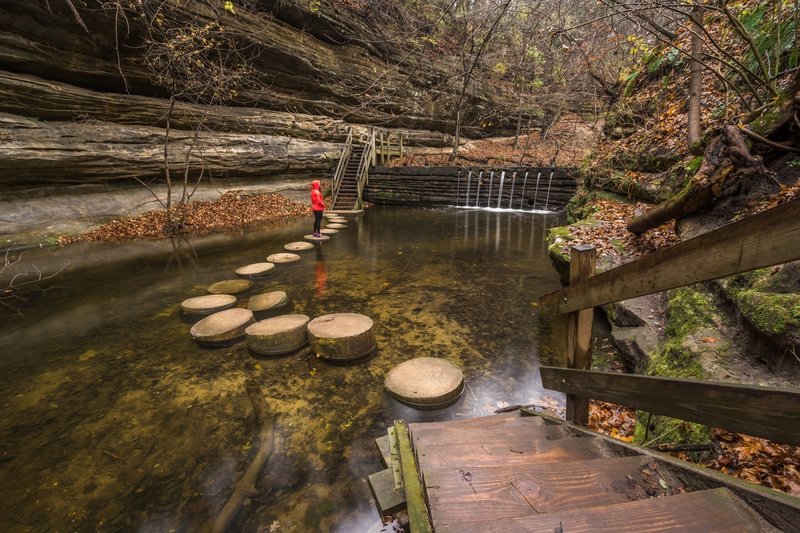 If you're looking for a cheap staycation to end the Summer, exploring a state park is a perfect solution. Illinois has some wonderfully wooded nature preserves, state parks and more that offer hiking, nature exploration, historic sites and camping. A hike is a great way to test your family's harmony with the great outdoors and is a perfect activity for any age. 
You can pack a lunch, plenty of water, snacks, swim gear and even a journal for your kids to document all their fun findings. Make it even more special by purchasing a disposable camera to capture these memories in a new old way. 
4. Bonfire and S'mores Night
As the Summer heat begins to break, a bonfire night becomes the perfect social gathering for your family and friends. The cooler nights make a bonfire a pleasant experience where neighbors can bring their camp chairs, air sofa and beverages while you supply the s'mores supplies.  
You can make your s'mores night truly memorable with some alternative ingredients. You could add fruit to the bottom, use peanut butter cups instead of chocolate bars, or even use cookies instead of graham crackers.
5. Family Olympics 
Yes, the 2020 Olympics have been postponed. Your family can make up for this by throwing your own Olympic Games! Pick five or more individual activities in which each family member can compete for medals. Here are some ideas:
Egg and spoon race
Hula hoop contest
Keep track of each family member's performances and you can award a special prize for the overall winner!