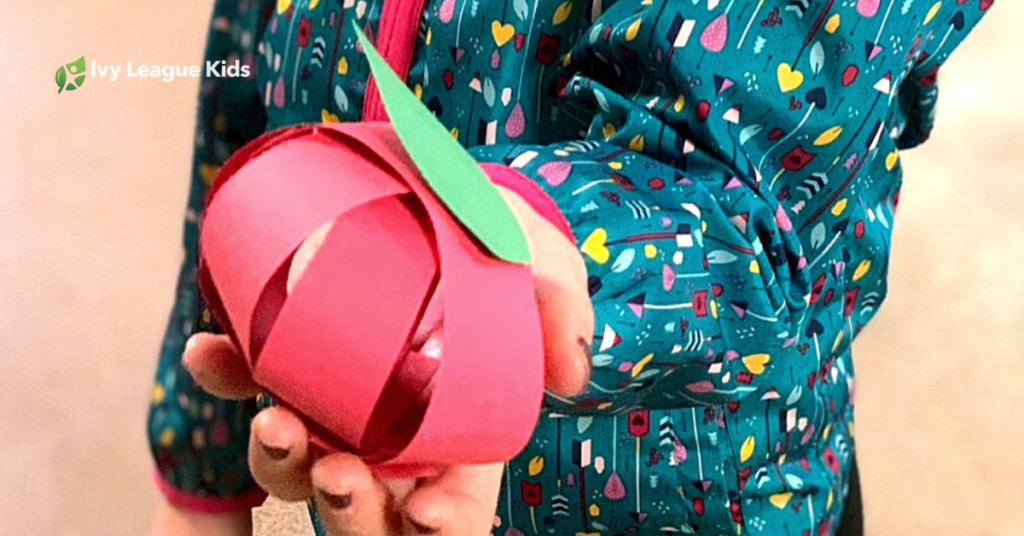 Easy 3D Paper Apple Craft for Fall
Apples and Fall seem to go hand-in-hand. From bringing an apple to your teacher at the start of school to picking apples to kick off the season, apples seem to become very popular as the season turns.
At Ivy League Kids, we celebrated Back-to-School by making 3D apple crafts. These are not only fun to make but they can also be used for cute decorations at home. This craft is for kids ages 3 and up, but some kids will need more help and parental supervision.
Materials
Red and green construction paper
Scissors
Hole puncher
Paper fasteners
Instructions
Cut the red construction paper longways into ½-inch wide strips. There is no "correct" number of strips you need, but 9 or 10 strips will make your apple look the right density.
Cut a leaf from the green construction paper. You should be able to cut six leaves from one sheet.
Punch a hole at both ends of the red strips. You can stack them on top of each other so the hole is in a consistent location on each strip.
Punch a hole at the base of the leaf.
Lay the red strips vertically in a circle, space them out evenly. Gather one end of each strip together and push the paper fastener through the holes from the bottom.
Collect the other ends of the strips to make a sphere. Put the hole of the leaf on top of the holes of the red strips. Stick the fastener through the holes from the top.
Fan and space out the strips evenly so the apple looks round and luscious.
Make a garland
Make 5-7 3D apples and gather either fishing line, yard, butcher twine or other string. You can either string the line through the open gaps of the apple or punch a hole in the apple leaf and feed the string through each hole.
Hang the apple string across a doorway, over a window, or along a fireplace mantle for a fun fall craft garland.
If you want to make your apple(s) truly unique, use different colors or paper. You may want to use yellow for an apple, or perhaps mix yellow and red together in one apple. You could also use cardstock paper with different colors and designs instead of construction paper for more intriguing colors.
Share your creations with us on Instagram by tagging us (@ivyleagueafterschool) or using #ivyleaguekids.